Student Tracking System
RFID Based Real Time Student, Bus Tracking System And Online Student Attendance Tracker : Student Tracking System Software
Features
Recently, the crimes against children are increasing at higher rate and it is high time to offer security system for the children going to school. Human kidnapping is a shame on humanity. As per the report of human rights commission of India over 40,000 children are reported missing every year of which 11000 are untraced. Another statics report says that 80% of human kidnapping is done for sexual exploitation. There is an urgent need to find a solution to this problem. We are proud to present a system that will inform parents about the status of their children.
Real time student attendance will be marked automatically once student enters or leaves the school or board or de-board the bus using RFID technology. Fixed RFID readers antennas and rugged hand held devices will be used to scan the RFID (UHF) ID cards. Parents will recieve the SMS once the student has entered or left the bus and school. The movement of buses will be tracked using GPS devices which can be viewed by parents on mobile app. Student's RFID enabled ID cards will be provided with all necessary details printed. RFID antennas will be installed at the school gate and the bus drivers are provided with handheld RFID reading devices.
We Provides student tracking system, student attendance tracker, online attendance tracker, student tracking system software, RFID student tracking system, student attendance tracking system, school student management software.

Boarding and Deboarding From Bus
RFID reading devices will be provided to the bus driver where each student entering will be recorded and sms will be sent to the parents.

Automatic Attendance on Gates
RFID reader antennas will be installed in the school entry gates for recording the student gate entry.

Real Time Location of Bus
Parent App can be used to view the movements of the buses carrying their child.

RFID ID Cards
Each student is provided with RFID enable hard plastic badges with printed details

Overspeeding Alert
Transport incharge can see & monitor real time speed of each and every bus. if in case the bus goes above the speed of 50 km/hr alert is displayed on screen.

Monitor Bus Movements
multiple reports and graphs are generated to analyse and take actions based on entry time, exit time, late comers, bus reports etc.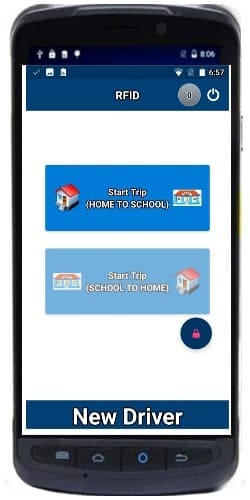 Mobile App/
Driver Mobile App
There will be a control room from where the incharge will be monitoring all the buses. If the bus is stopped, overspeeding or the route is diverted then there will be an alert. Admin dashboard can be used for visualisation and tracking real time student attendance. The current speed of the bus will also be monitored by the incharge through realtime dashboard.
The Parent Mobile app can be supported by any smart phone. The realtime location of the bus can be viewed on the mobile app. With the help of the app parents can track the bus, estimate the bus arrival at the stop both in the morning and evening. Parents can also check previous records of bus board time, school reach time, school leave time and bus onboard time.
In Driver Mobile app each student ID scanned and saved into the system and once the ID is saved, a sms is sent to the parents immediately.
Student's safety is our prime motive. Our system ensures that each student entry and exit are recorded without failure. School can record their daily students attendance with 100% accuracy. Both parents and school can track the real time movements of their buses.
BBSPL Brings Attendance Tracker, online attendance tracker, student tracking system software solutions in India.
Teachers and Staff Attendance
Even teachers and staff along with the students would be provided with rfid enabled id cards. When they enter and exit, their cards gets scanned automatically and date & time is recorded into the system. This data would be utilized later for attendance & pay calculations.
When the student is entering the bus from school, driver scans his ID card and an auto sms is sent to the parents.
Parents can track their children and pick them up from the respective stops. The process is same when the students exits from the school.
Best Barcode System Pvt Ltd:
provides student tracking system, student attendance tracker, student tracking system software, RFID student tracking system, student attendance tracking system, school student management software, online attendance tracker.