BBSPL is a manufacturer And Dealers Of a wide range of RFID Readers includes Fixed Reader, Mobile Reader, Handheld Reader, RFID reader tag, RFID reader em18, RFID reader for Arduino, RFID reader UHF.
An RFID reader (Radio Frequency Identification reader) is a device that is used to gather all the information from RFID tags. This device is used to track individual objects. The means of this interrogation is wireless and as the distance is short thus the line of sight between the tags and the reader is not necessary. A reader consists of an RF module that acts as a full-duplex i.e. transmission and reception of radio frequency signals both at the same time.
The transmitter consists of an oscillator, modulator, and an amplifier.
The oscillator creates the carrier frequency.
The modulator impinges the data command on this carrier frequency.
The amplifier boosts the signal to awaken the tag.
The receiver consists of a demodulator and amplifier.
The demodulator extracts the refunded data.
The amplifier strengthens the processing of the signal.
A microprocessor forms the control unit. This control unit consists of an operating system to filter and memory to store the data.
There are three types of Reader:
Fixed Reader
Mobile Reader
Handheld Reader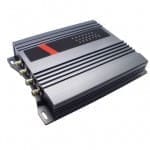 Fixed Reader: Fixed Readers are used for large-scale deployments like dock doors, conveyor belts, and other tracking tools, parts and equipment. Fixed RFID readers need access to ground power sources and are usually connected by USB, RJ cables, etc.
Best Barcode System Provides Fixed Reader, Mobile Reader, Handheld Reader, RFID reader tag, RFID reader em18, RFID reader for Arduino, RFID reader UHF.
We are Desktop Reader supplier Noida, Best RFID Companies in India, RFID Suppliers, RFID Dealers in Noida, RFID Dealers in Delhi-NCR, RFID Integrated Readers, Chainway Readers, Chainway UHF Readers, RFID Solutions dealers in india.\
Mobile Reader- the Mobile reader is used for areas where it is hard to reach areas and install Fixed Readers. This robustness is suitable for forklifts and other moving vehicles. If the Mobile Reader is self-contained with its own battery and antenna, its wireless communication allows them to connect with a network from trolley and cart.
Handheld Reader- These are light, ruggedly built and compact to withstand being mishandled. By tethering a cable to RFID Reader one can assure himself of having proper communication and constant power to a network.